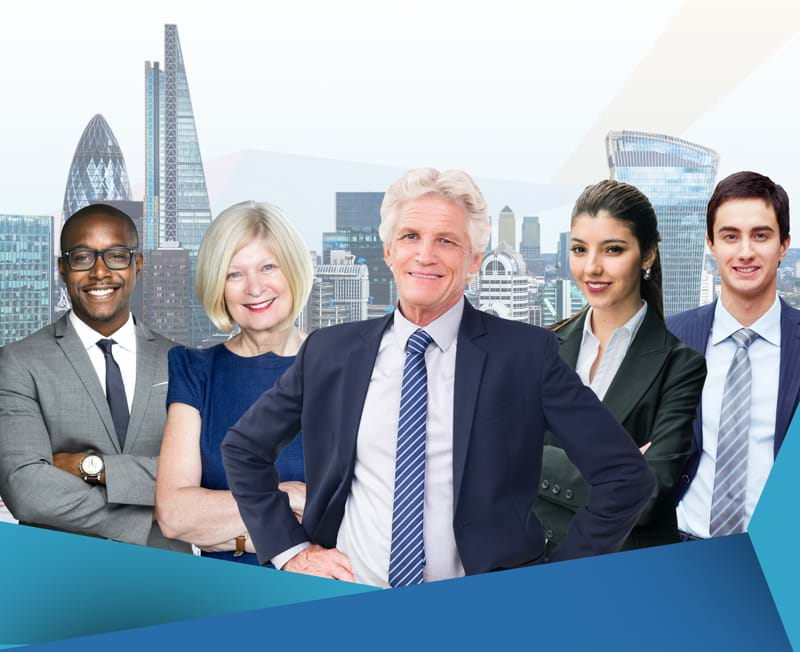 About
Leaders of Tomorrow
The London Insurance market, like most sectors, is evolving constantly; every single day seems to bring something new, but there is one common denominator at the centre of everything we do here in EC3: our PEOPLE. Everybody in our market plays an integral role in the overall success of this unique trading place, from the cleaner to the CEO.
This hugely important industry sector with more than 300 years of tradition, continues to rely on its core values of trust, transparency and loyalty, with people at the very heart of this face to face trading environment, supported by technology.
"Change" is a constant nowadays in all industries, but it happens slowly in the Lloyd's and wider London Market. The digital revolution is finally happening here in Lime Street and attitudes and perspectives are also evolving, as new types of people with different talents and outlooks enter the Market. Recently, Lloyd's relaxed its rule requiring men to wear a tie to enter The Room and last year they went further and took action against the "lunchtime pint" that had been a centuries-spanning staple for many who work in the market. Most firms have now embraced an active Diversity & Inclusion agenda within their operating models, which is continuing to change the dynamics and skill set in the Market, bringing in new talent, but are we doing enough to ensure we have the best people to take our Market forward.
With PEOPLE still at the heart of everything we do, LMForums is proud to be hosting a very special Open Day where we focus on the importance of our biggest asset, our human capital. Younger members of our community and rising talent will have the opportunity to express their views on what they feel needs to happen within Market firms to ensure we attract the right individuals to satisfy changing customer demands and meet the future market challenges. Equally, we'll be welcoming professionals at the other end of the career spectrum for an open and frank discussion about the future of our Market. Attendees will have the opportunity to listen, contribute and learn from the younger members of the community, plus hear from experts in areas such as talent development and growth sectors such as cyber resilience.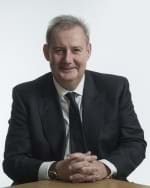 DOMINIC CHRISTIAN
Global Chairman of Aon Benfield
Member of the Global executive of Aon
Prior to this he was co-CEO of Aon Benfield. He was a Group Board Director of Benfield Group plc, CEO of its International Division and CEO of Benfield Ltd. Dominic began his career in the mid-1980s at specialist reinsurance broker JK Buckenham, joined broker Greig Fester in 1989 and became a director in 1994. He has spent a significant portion of his career broking retrocession business and, when his colleagues allow, he endeavours to continue to do so.
Dominic is a Director of the Juvenile Diabetes Research Foundation, a Director of The Bermuda Society, Chairman of the Lloyd's Tercentenary Research Foundation and Chairman of the Sainsbury Centre for Visual Arts (SCVA). In 2014 he was honoured to be elected as a Member of the Council of Lloyd's. For 2015/16 he was President of the Insurance Institute of London. He was recently re-elected to the Court of Common Council of The City of London. He leads the Inclusion@Lloyd's Group – a contemporary approach to Diversity and Inclusion being in his view central to future business success. He was recently appointed Chair of ClimateWise.
Dominic holds an Honours Degree in History from the University of East Anglia and an Honorary Doctorate in Civil Law.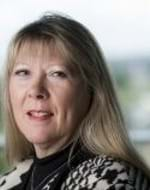 BARBARA MERRY
Chairman, Parker Norfolk & Partners
Barbara brings a wealth of experience and insight to any conference having been in the market for over 20 years holding the positions of CEO at Hardy Underwriting Group, CEO of Omega underwriting group and in the early years; General Manager of the Corporation of Lloyd's in addition to being a member of Lloyd's Council and a seat on the Board of the LMA.
Barbara currently holds a number of senior roles in the London Insurance Market as Chairman of Lloyd's broker Parker Norfolk and Partners Limited, Non-executive director and Chairman of Audit and Risk Committee for Domestic and Gen-eral Insurance Limited, Non-executive director and Chairman of Risk and Audit Committee for Lloyd's broker Ed Broking LLP, Non-executive director of Pool Reinsurance Company Limited, non-executive director and member of Risk Commit-tee and Remuneration, Nomination and Governance Committee for Argus Group Holdings Limited, Board trustee at the charity Fight for Sight including chairing its Finance Committee, Founder of IWIN, the women's forum set up under the auspices of the Worshipful Company of Insurers, founder member of the Insurance Supper Club network and member of the Lloyd's Inclusion@lloyd's group. Barbara is also an active and involved business angel investor.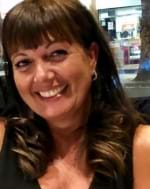 ALISON DOVE
Head of PPL Market Relations & Communications - Placing Platform Limited
Ali Dove has worked in the London Market for over 10 years, with the majority of her time and expertise spent successfully implementing large change programmes across the Lloyd's & London global insurance market. Her most recent claim to fame is the success of Placing Platform Limited (PPL), the high profile ePlacing Platform that really saw the London Market come together and deliver on the goals.
From May 2019 Ali will be working on a consultancy basis, with a strong focus on business transformation, strategy execution and stakeholder management, helping insurance companies exceed their potential.
WHAT WILL THE DAY LOOK LIKE?
The morning session will mostly involve the Under 30's from the Market, with some senior management representation. A networking lunch will follow, where senior and influential leaders from the EC3 community will have the opportunity to meet and network with our younger colleagues. In the afternoon session, we'll gather over 100 senior professionals from the Lloyd's and London Market to engage, listen to expert speakers and debate how best to encourage and develop the next generation of leaders, ensuring the Market continues to flourish.
LMFoums has been working with all contingents of the Market to bring together an amazing group of professionals for a unique debate.
Membership of LMForums and the North American Forums is Free to anyone working for a bonafide Insurance firm or trade association
Leaders of Tomorrow - Conference
---
Location
1 America Square, 17 Crosswall, London. EC3N 2LB
Date and Time
9th May 2019
8:30am - 6:30pm
---
You don't need to be a member of the club to attend
---
PROGRAMME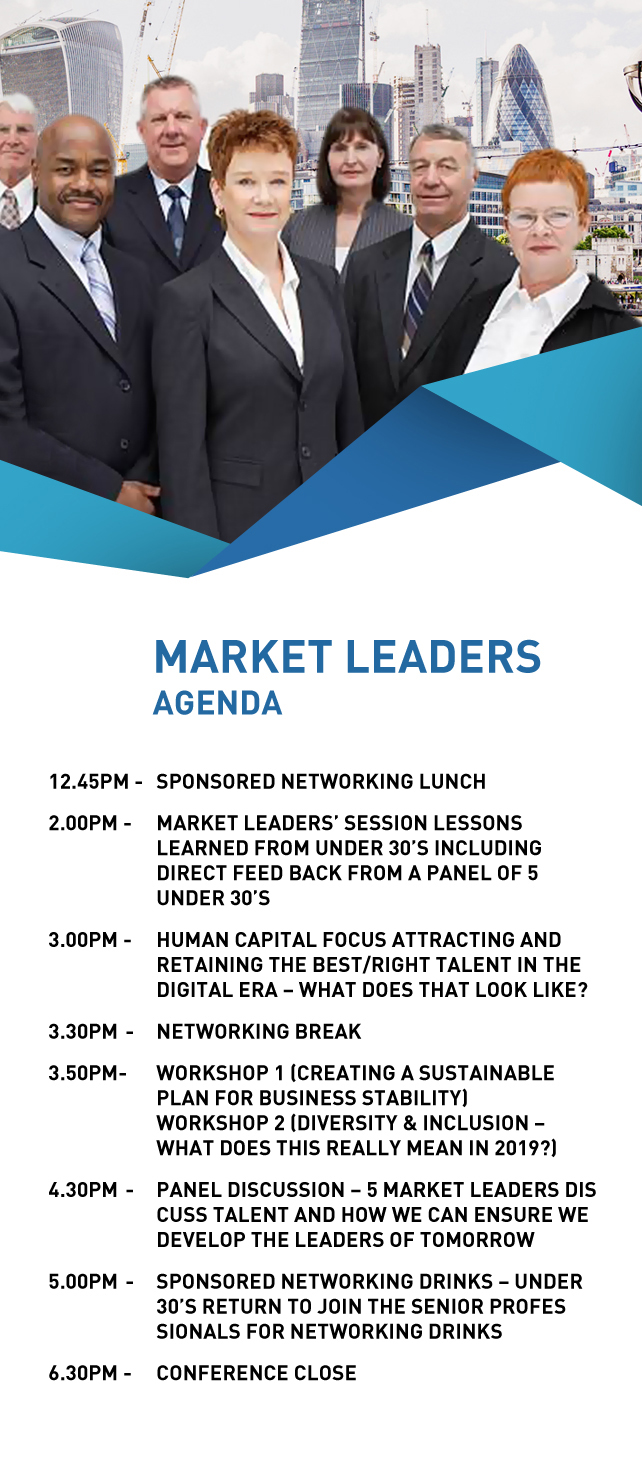 ---
---
If you would like to be a sponsor for the next event
---