Business agility – the ability for companies to react quickly to market changes, mitigate issues proactively and respond flexibly to market demands – has long been positioned as key to succeeding in today's increasingly complex and dynamic environment.
It's no secret that the path to agile, intertwined with digital, has been on the agenda in the London Market for several years. And yet, due to its rich history and traditional operating practices, it remains a market that heavily relies on in-person interactions and paper-based processes.
This approach has been tested during this year's COVID-19 outbreak. The accelerating working-from-home trend, which was suddenly mandated as a result of the crisis has changed the game for markets across the world – not just for London.
Digital automation is no longer an option
As a tech provider of low-code and customer engagement solutions it's our mission to support businesses to thrive in the 'next normal'. The automation of processes to avoid failure and drive better user and customer experiences is key. This was highlighted in recent research published by Forrester 'The Coronavirus Crisis Increases the Demands on Software and Developers', May 2020.
In the report Forrester state, "Automation in departmental silos is the root cause of many broken processes. One process pro at a large insurance company lamented that many processes broke as a result of COVID-19 driving a new class of remote workers. But her process and technology guidance didn't extend past her part of the organization, even though processes themselves did. Many manual processes address handoffs across departmental boundaries. Lack of a consistent digital process automation (DPA) strategy makes end-to-end automation challenging."
Necessity is the mother of invention. From the discussions we've had with our customers in the London Market, the feeling has been one of surprise at how well a market that thrives on relationships and in-person interactions has responded. There are many who feel that this is an opportunity to accelerate trends and capabilities, which otherwise would have taken years to come into play.
Pick up the pace of change with low-code
The good news is that barriers to technology adoption continue to fall, and associated offerings multiply, the opportunity to create IT systems that support agile businesses is widening and the IT tools to create them are becoming more agile too. This is particularly benefitting the organisations that would previously have struggled to find the required investment and expertise to make the move. The emergence of low-code technology has undoubtedly helped speed up this democratisation of technology.
Low-code enables IT and citizen developers (aka business users) to collaborate on application development to radically improve processes without the need for complex code. By removing the need for developers who have traditionally been needed to bring digital change to life, low-code is helping to overcome shortages is digital skills. For example, Hampshire Trust Bank has developed and rolled out a brand-new application to replace manual processes in its mortgage division four months earlier than planned, and at less than one-third of the anticipated cost.
A digital-first approach then, is critical to the future success of the London Market. So what does digital-first mean? Most of all, it means equipping the business to cope with rapid change. The change that is needed to win and keep customers, to use resources in the most effective way, to maximise revenues, minimise the cost of expensive manual processes and to future-proof the business against the unexpected. And in 2020, it's easier to do than ever before.
Liberty Create from Netcall is built to help organisations digitally-enable their processes through apps that work from anywhere and deliver great customer experience (CX). To get started, see how Create's Low-code Launchpad will help jump-start your digital-first efforts with a pack consisting of software licences, training, AppShare and Community access to help your teams get building, faster.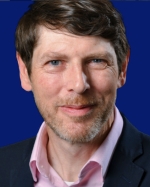 Richard Farrell is Netcall's Chief Innovation Officer. Over the past 20 years at Netcall, Richard has researched, innovated and delivered solutions that meet the needs and challenges that our clients face. He continues to investigate and advise on changing environments, technologies and trends.