RPA AI Market Practice Group
Welcome to the RPA / AI Market Practice Group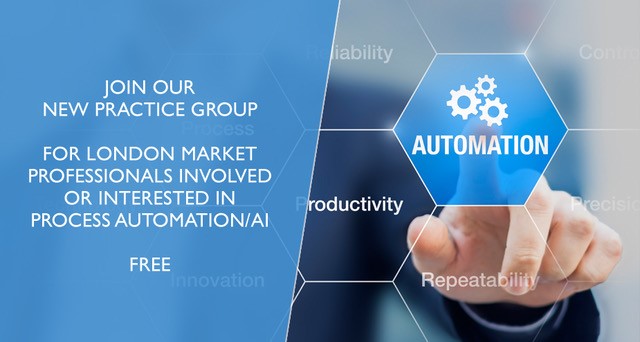 We are creating a number of specialist Market Practice Groups within LMForums following consultation with our Members and the wider Market, bringing together a small group of London Market professionals, to discuss and debate topics relevant to that group, as well as inform/influence Market opinion. These will be truly cross market open forums, allowing people to freely learn from each other with barriers.
We invite you to be part of the Process Automation/Artificial Intelligence Market Practice Group by giving us a call on the number below. We look forward to hearing from you.
To join the session, simply call us:
Background - Why RPA / AI?
During our recent events covering this important topic, we discovered that around 75% of participating Market insurers/brokers were involved in automation related projects, which are bringing considerable savings and operating efficiencies to businesses. However, adopting the right strategies, methodologies and implementation plans requires skills and experience and every Market firm is a different stage on the learning curve. This Practice Group will look at all of these areas and as well as providing an environment for exploring some of the emerging ideologies in this arena. We are grateful to the ISG Group for agreeing to sponsor this Practice Group. They have considerable expertise in this arena and are currently working with firms in the London Market.
Apply today to join the Market Practice Group by simply by calling or emailing us:
If you're not a Member, don't forget to register at: Join now
See whats on next: Upcoming Events

Frequently Asked Questions